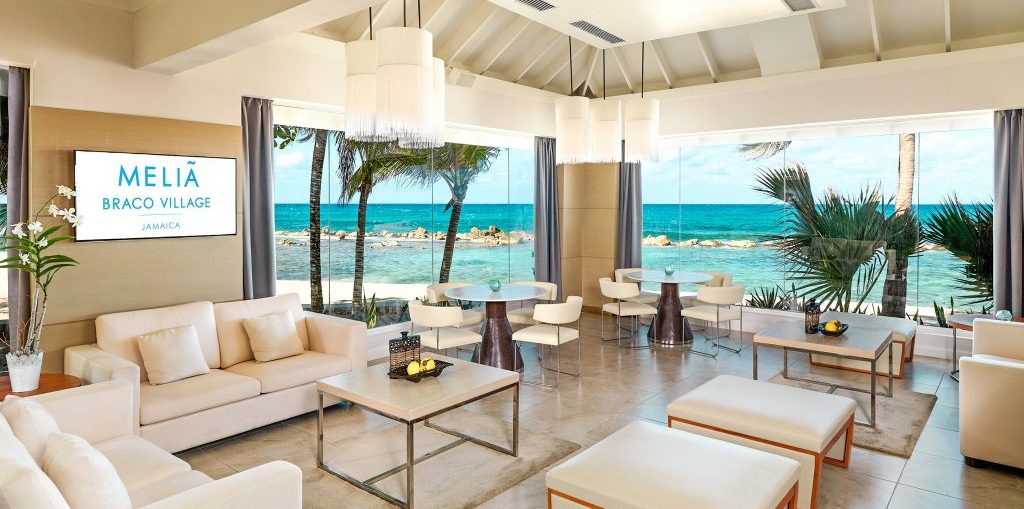 Trelawny, Jamaica (5 Star Rating)
The Melià Braco Village is an all-inclusive, family friendly resort located next to beautiful white sands of Trelawny, Jamaica. This resort is perfect for families and couples looking for a relaxing vacation on the beach offering a selection of private beaches and freshwater pools. Guests that are looking to get active have plenty of activities to choose from including kayaking, soccer, obstacle courses or snorkeling.
Adventure Park The new adventure park at Melia Braco Village features a unique adventure experience offering zip lining over the natural wildlife pond and tropical forestry. Challenge your strength on the obstacle course with varying levels of difficulty. Try your hand at climbing and climb like a pro up any of the 4 lanes of the impressive 35 foot rock wall and ring the alarm when you get to the top. Experience an amazing trampoline court designed for open jumping. Harnesses are provided along with equipment and a safety briefing that demonstrates how to climb and zip line. The park offers adventure for ages 6 years and up. Explore the park with a trained adventure team twice per day and make memories with your family and friends and release your true inner child.

Restaurants
Offering a variety of national and international cuisines throughout 5 different restaurants, guests are able to experience new flavors. Melià Braco Village is conveniently located just 35 min from Sangster International Airport, Montego Bay.
Premium Garden View Room
Located either on the second or third floor of the colonial-style Villas, the Premium Garden View rooms provide stunning views of the lush gardens at the Meliá Braco Village. Most of these rooms will feature a balcony. Each room measures 452 sq ft (42 sq m) and is fully-equipped with two double beds or one king-size bed, some rooms will also feature a sofa–bed which can accommodate one extra person. Enjoy the comfort of a guestroom with contemporary interior finishes and wooden floors while you experience the real colonial Jamaican architecture. All rooms feature a dining/work area.
Included Amenities:

Balcony or terrace
Bathrobes & slippers
Coffee maker
Mini-bar (refreshed daily with refreshments, water and beer)
Iron & ironing board
42" Smart TV
24-Hour room service
Non-smoking
High speed Internet and Wi-Fi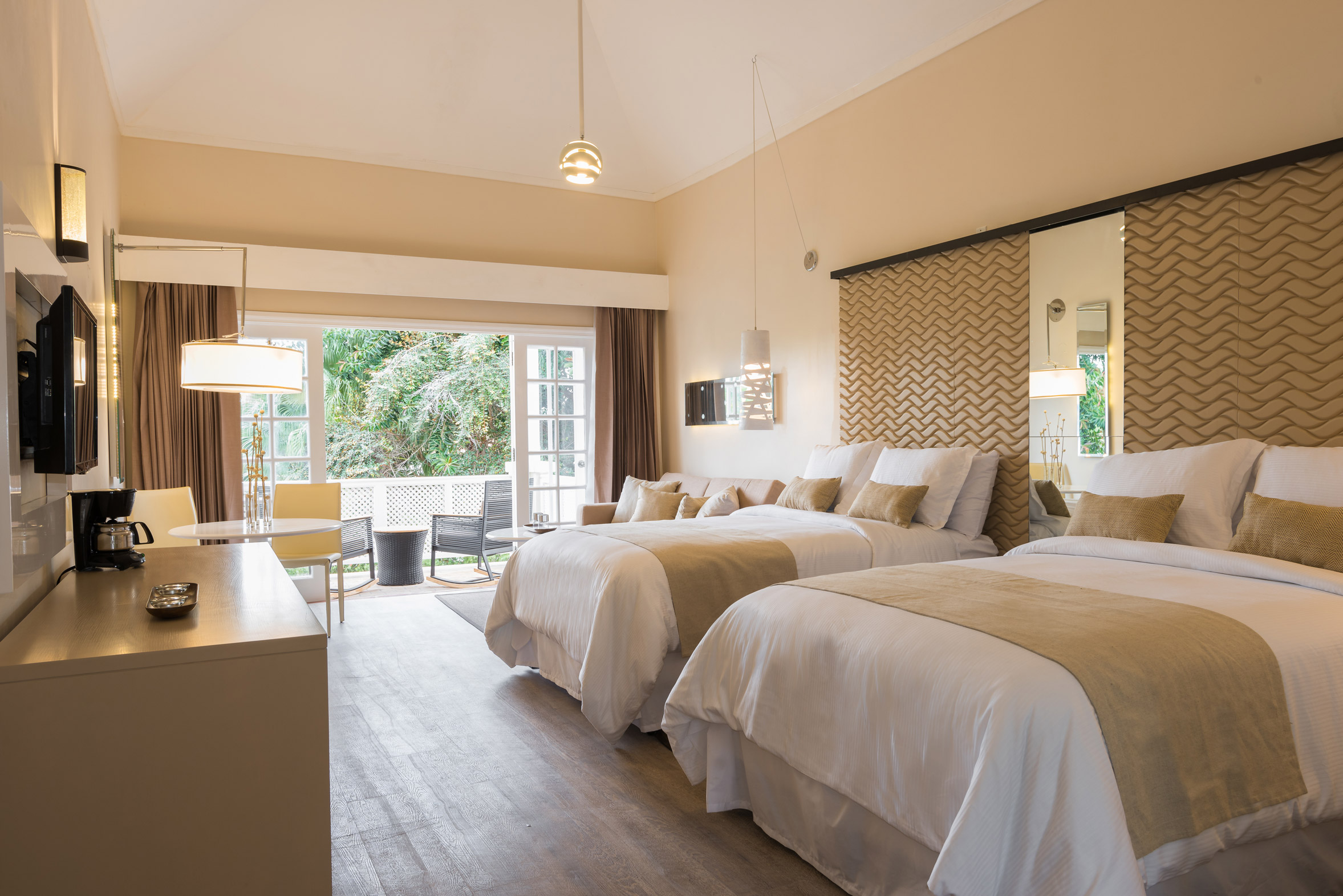 The All-Inclusive Includes:
226 Rooms and Suites
Garden and Ocean views
6 Restaurants
4 Bars including 2 swim-up bars
Daily entertainment
Activities program
Night time entertainment and live music
24-Hour fitness center
Spa & Wellness center
Kids & Company supervised program (5-12 yrs.)
Romance by Melia: Expert team and staff plan your dream wedding
Indoor and outdoor meeting and event venues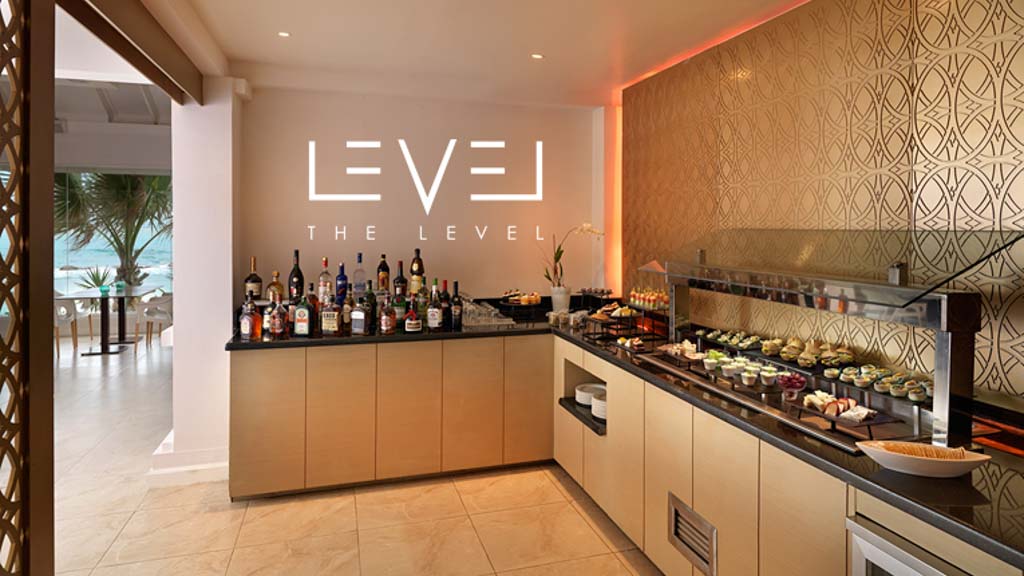 Restaurants
Nikkei – The restaurant invites guests in with a high energy vibe and superior service. Offering an exquisite fusion of Japanese and Cantonese cuisine with a sushi bar.
Hours: 6:30 pm – 10:30 pm
876 PRIME – A traditional steakhouse restaurant.
Hours: 6:30 pm – 10:30 pm
Rasta Pasta – Italian cuisine with a Caribbean twist featuring an exquisite wine list. Serving a combination of modern and traditional favorites, the restaurant offers flavors for all guests to enjoy.
Hours: 6:00 pm – 11:00 pm
O' Grille – This restaurant creates a casual atmosphere for dining and entertainment right on the beach. Featuring, grilled menu items during the day and transforming into an à la carte restaurant in the evenings offering Jamaican cuisine.
Hours: 11:00 am – 6:00 pm
The Market Place – An open kitchen, international buffet style restaurant serving breakfast, lunch and dinner. Guests can also enjoy a variety of aperitifs and snacks after midnight.
Hours: Breakfast 7:00 am – 11:00 am
Lunch 12:00 pm – 2:00 pm
Dinner 6:00 pm – 11:00 pm
Bars
Chill-Out Bar – Jerk Center by day, serves the most flavorful grilled Jamaican specialties. The Chill-Out bar transforms into an after dinner lounge in the evenings.
Hours: 11:00 am – 11:00pm
Wet Bar 1 – Swim-up pool bar located at the main swimming pool, featuring savory cocktails and drinks.
Hours: 10:00 am – 6:00 pm
Wet Bar 2 – Swim-up pool bar located at the THE LEVEL swimming pool, featuring savory cocktails and drinks.
Hours: 10:00 am – 6:00 pm
THE LEVEL Bar – Located at THE LEVEL restaurant and provides beverage services to THE LEVEL guests at the beach.
RED LOUNGE – Open late each night for the enjoyment of the resort's guests. Entertainment and activities will showcase the latest hits and theme nights.
Hours: 11:00 pm – 3:00 am
AVENUE BAR – A piano bar that offers nightly, live musical entertainment and specialty cocktails.
Hours: 7:00 pm – Midnight
Room service is available 24-hours a day.
Make it a Vacation Package Pricing: $1170.00 per person
Includes:
4 Days and 3 Nights
Flights
Ground Transportation
Travel Insurance
Deposit: $345.00
To Book This Trip
Complete the following forms if you are a new client. If you are a returning client you only need to complete the Credit Card Authorization form.