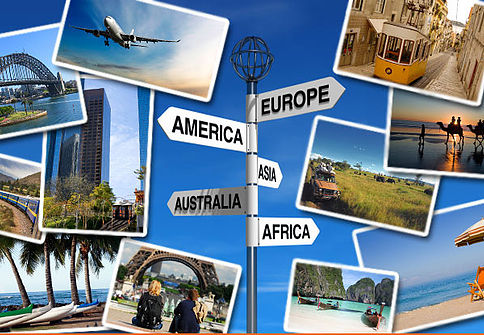 Whether you're searching for your next vacation destination or know exactly where you want to go, booking travel is a commitment, one that can be a thrilling adventure. But travel also has its challenges, and that's why you want your agent with you through it all. Your travel agent is more than a friendly face.
A travel agent is:
A Matchmaker
Travel agents excel at finding the perfect destination and resort for even the most discerning traveler, and as the ultimate matchmakers, they can pair you with that all-inclusive property, luxury golf and spa resort, or family-friendly destination. For honeymoon and romantic escapes as well as gastronomic getaways, agents will choose a resort with special amenities or award-winning restaurants. No matter what you prefer, a travel agent can create a memorable vacation from your personal tastes and desires.
A Life Saver
We all want the perfect vacation every time we travel, but sometimes things happen. Maybe it's a series of delays, or the weather doesn't cooperate. If you booked without a travel agent, you spend hours on the phone or on line at the ticket counter hoping to find an available flight to nowhere before connecting home. But if you booked with a travel agent, they're on the phone with an airline finding you the best possible routes without the hours of frustration.
A Travel Genius
From rooms with the best views to construction notices and upcoming events, travel agents have the knowledge, connections, and experience to book you in your preferred room category and resort. Plus, if you're traveling to multiple cities, islands, or countries, you'll want a travel agent's expertise to provide a smooth journey. Your travel agent will also advise if you need a passport, a visa, or both to get into that specific country, so you won't be held up at customs or even denied entry.
A Good Value
A travel agent strives to get you the best value for your journey, which can mean exclusive packages, rooms in "sold-out" hotels, and possibly special arrangements or requests. Since agents know hoteliers, concierges, and other attendants personally, they are more likely to receive additional added value to ensure your enjoyment at the resort. Agents can also help you navigate traveler's protection to help you choose the best plan to suit your specific needs.
A Time Saver
A travel agent has the latest information about packages, property details, and new activities at their fingertips, usually sent to them by the hotels and destinations themselves. With years of experience and firsthand knowledge, travel agents save you countless hours upon the Internet and plan your trip with expertise no search engine can give. Plus, they'll do price comparisons, provide insider tips, restaurant recommendations, and more, depending upon your preferences and destination.