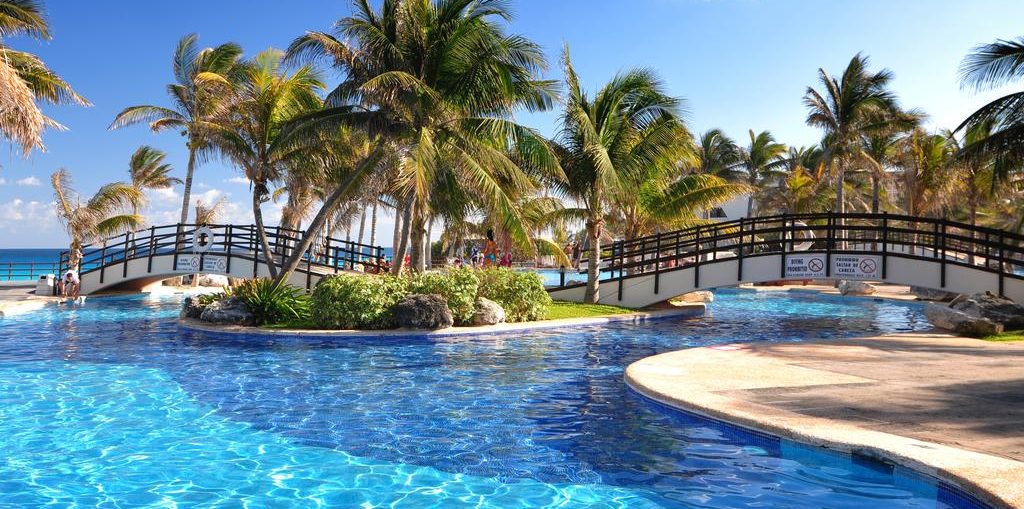 Lets get the summer off to a festive start with this sweet deal in Cancun. How about a 4 star all-inclusive, architectural landmark hotel located in the center of Cancun's Hotel Zone. Designed in the shape of a pyramid, guests are met with a breathtaking 7-story skylight atrium lobby and a fabulous facilities, including the largest pool in Cancun. Eighteen dining venues, fourteen bar options, a spa and fitness center and a 9-hole executive golf-course are just the beginning of the numerous amenities guests are met with at Grand Oasis Cancun.
3 Nights or 6 Nights the Price is Right
3 Nights for a little as $799 per person
6 Nights for a little as $999 per person
3-Night Vacation Packages ▪ Departing Wednesday ▪ 5/22/19
6-Night Vacation Packages ▪ Departing Sundays ▪ 5/26/19 – 7/28/19
Save Your Spot Now With A Low $125 Deposit!
Enjoy up to 62 restaurants and 52 bars, multiple pool environments, diverse beach areas, etc. when staying at one resort! Guests staying at any Oasis Hotel and Resort in Mexico in a Grand, Sian Ka´an or Pyramid property on an all-inclusive basis, will be able to visit and enjoy the other Oasis resorts for the day, having access to all food and beverage outlets and resort facilities at the same category level as booked. The ID system will be based on color coded wrist bands. In an effort to maximize comfort for the guests participating in the Grand Oasis Runaway Program, the guest is required to visit to the concierge (Oasis Plus) desk, which is available at all Oasis resorts, to make arrangements one day prior to visiting any other participating Oasis Resorts. The staff will need to know guest visiting date, estimated time of arrival, and which resort they are planning to visit. Cost of transportation is not included. Black Out dates may apply.
Please note that this program will not be available at Grand Oasis Cancun or The Pyramid at Grand Oasis, from February 21st, through March 31st, 2019.
Honeymoon & Anniversary Program
All honeymooners and guests celebrating their wedding anniversary staying at any Grand Oasis property will receive the following:
Priority check-in through the Oasis Plus desk with a Tropical Welcome Cocktail
Complimentary upgrade to best available accommodation (within reserved category) at time of check in.
A complimentary upgrade to best available accommodation (within reserved category) at time of check in
A fruit basket and a bottle of domestic sparkling wine in their room
King size bed (subject to availability at time of check-in)
Special reservations for a romantic dinner with a bottle of house wine
Please Note:
This program is available with a minimum of a 5 night stay.
Marriage certificate must be presented at check in to receive package.
Honeymoon must be within 6 months of marriage, anniversary must be within 5 days of stay.
Package inclusions are subject to change.
Must be requested at time of booking.
FAMILY PROGRAM
One child 12 years of age and younger will stay and eat free when sharing accommodations with two paying adults
A single occupancy adult traveling with one child will pay double occupancy rate. The second child will be complimentary
Infants up to 2 years old stay free at all time