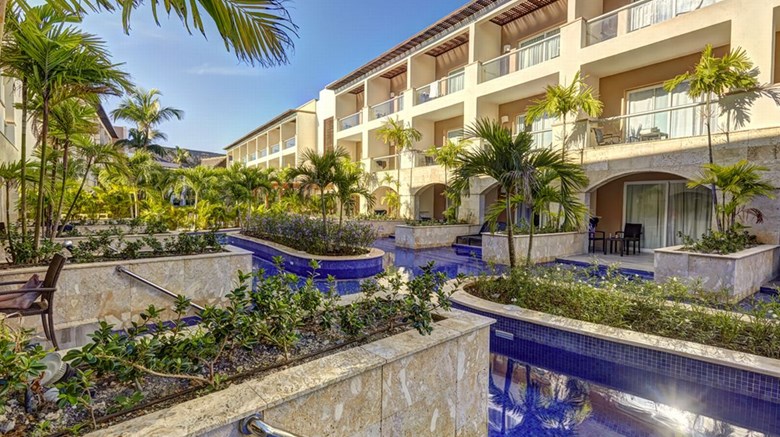 7 nights accommodations for 2 adults  occupying 1 room
Luxury Junior Suite All Inclusive
Check in Date: 01 Aug 2020, Check out Date: 08 Aug 2020
Departure from JFK to CUN
Transportation to the resort and back to the airport
Total Cost $1795 per person (based on double occupancy)
Deposit: $375.00 per person
Final Payment Due: May 6, 2020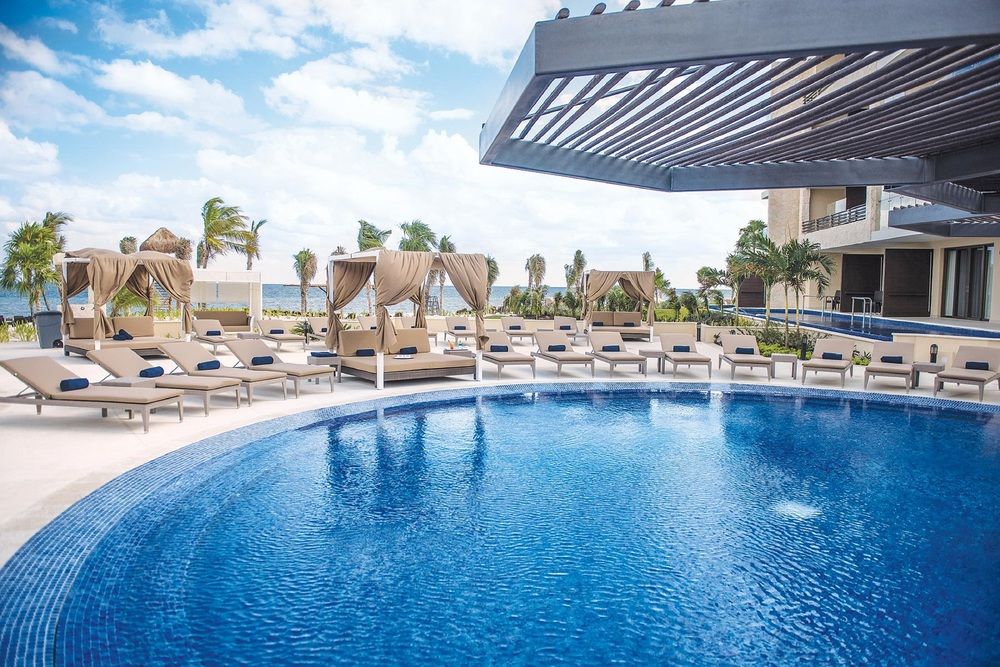 An all-inclusive resort in Riviera Cancun, sits perched on a dazzling strip of powdery white sand. Your All-In Luxury® vacation starts the second you arrive, with every aspect of your stay designed to deliver a personalized experience that awakens and enriches the senses. This all-inclusive vacation features a selection of luxury accommodations and thoughtful touches throughout, including the DreamBed™ designed exclusively for Royalton Resorts, 250 thread count sheets, 24-hour room service, free Wi-Fi, All-In Connectivity™ and several other perks and privileges.
Designed to satisfy your every whim, the All-In Luxury® aspect of this already all-inclusive resort will not let you down. Every aspect of your stay, from bed to beach, will be taken care of.
HIGHLIGHTS
All-Inclusive Plan
Beachfront
9 Restaurants
12 Bars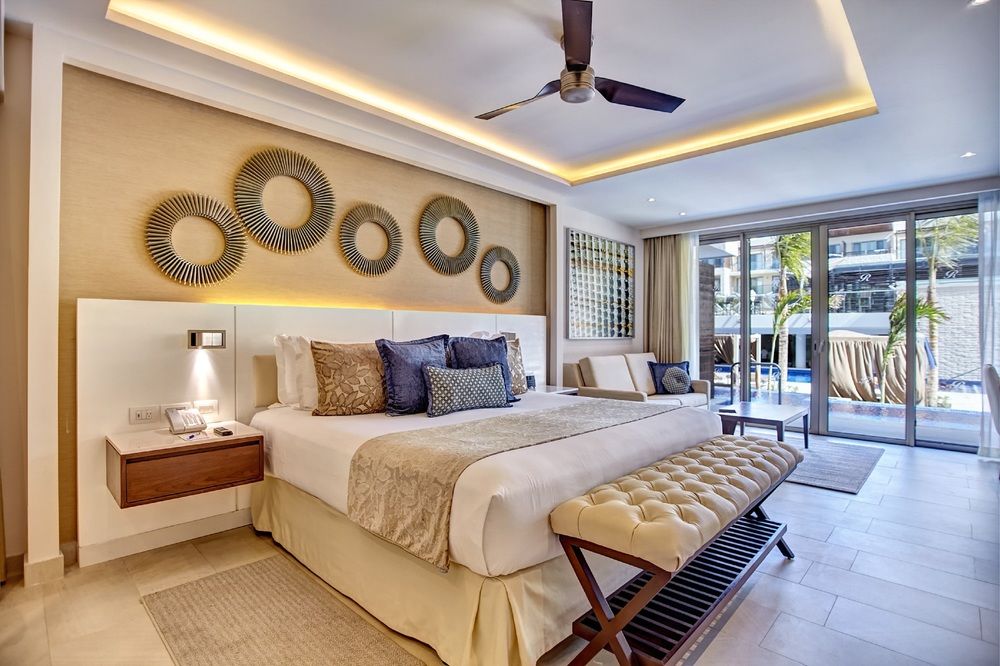 Dining
Guests at Royalton Riviera Cancun have access to ALL restaurants & bars at the Royalton Riviera Cancun. All-In Luxury® continues with reservation-free gourmet cuisine at the Royalton's 9 restaurants and at 12 bars where you'll enjoy a wide selection of specialty cocktails, international and local brand liquors, beers and house wines.
Dorado | Seafood Grill
This adults-only restaurant is Hideaway's specific dining option, perfect for a romantic evening in a mature atmosphere. Enjoy the flavors of the sea from around the world, with our fresh fish market and the delicious catch of the day from the Caribbean Sea.
Breakfast: 6:30am – 11am
Lunch: 12:30pm – 4pm
Dinner: 6pm – 10pm
Dress Code: Evening Casual
Ocean Point Bistro
Experience an international menu with a French cooking style in a breezy open-air terrace with beach View
Outdoor
Dinner only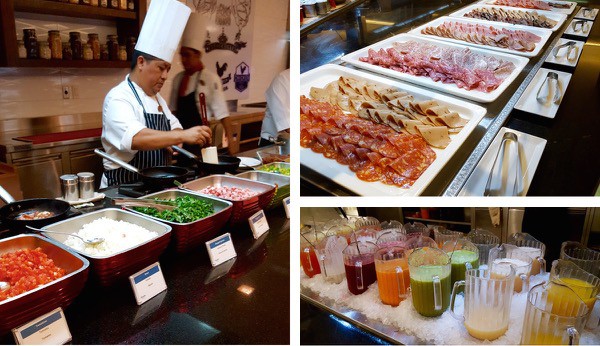 Gourmet Marché | International Buffet
Discover the freshest local ingredients and enjoy the best local and international flavors served at the buffet restaurant, also offering fresh fruit juices, a special kids buffet area and healthy options.
Breakfast: 6:30am – 11am
Lunch: 12:30pm – 3pm
Dinner: 6pm – 10pm
Dress Code: Evening Casual

Zen | Japanese Cuisine
Explore the best of Japanese cuisine at this à la carte dining experience.
Dinner: 6pm – 10pm
Dress Code: Evening Casual

Hunter Steakhouse | Steakhouse
Inspire your senses with a fine dining experience at the stylish steakhouse restaurant.
Dinner: 6pm – 10pm
Dress Code: Evening Casual
Cava Wine Cellar Private Dinner* ($)



Grazie Italian Trattoria | Italian Cuisine
Enjoy the flavors of traditional cuisine with delicious Italian favorites served next to the sandy beach for a grilled lunch. Available for lunch and a late snack.
Lunch: 12pm – 4pm
Dinner: 6pm – 10pm
Dress Code: Evening Casual

Taj | Indian Cuisine
Enjoy modern and refined Indian cuisine with a varied selection of meat, seafood, and vegetarian dishes in an upscale and relaxed setting.
Dinner: 6pm – 10pm
Dress Code: Evening Casual
Outdoor Terrace

Armadillo's | Tex-Mex Cuisine
Explore the best dishes from the chef at this à la carte dining experience.
Dinner: 6pm – 10pm | Dress Code: Evening casual

The Beach Club Grill | Caribbean Cuisine
The Beach Club Grill is right on the beach as Caribbean style cuisine.
Lunch: 11am – 5pm
Dinner: 7pm – 11pm
Dress Code: Evening Casual

Agave | Mexican Cuisine
Enjoy a fusion of indigenous Mesoamerican cooking combining Spanish cuisine with a mix of European cuisine. Mexican cuisine was added by UNESCO to its list of the world's "intangible cultural heritage."
Dinner: 6pm – 10pm
Dress Code: Evening Casual

SCORE Sports Bar and Lounge | Pub and Grill Specialties
Sports-themed restaurant and bar featuring Royalton's Sports Event Guarantee.
Open: 11am – 6am
Dress Code: Casual


---
BARS
Lobby Bar
Location: Lobby
Hours: 9am – 12am
Drinks: National, International, House wine
Martini Mix
Location: Between Sen and Score Bar
Drinks: National, International, House Wine
Hours: 10am – 6pm
Diamond Club™ Lounge
Drinks: Premium Beverages, National, International, House wine
Hours: 7am – 11pm
Diamond Club™ Beach Bar
Location: Diamond Club® Beach Section
Hours: 10am – 6pm
Drinks: Premium Beverages, National, International, House wine
Sands Beach Bar
Location: Beach
Hours: 10am – 6pm
Drinks: National, International, House wine
Dips Swim-up Bar
Location: Swim-up Bar
Hours: 10am – 11pm
Drinks: National, International, House wine
Chill Swim-up Bar
Location: Swim-up Bar
Hours: 10am – 5pm
Drinks: National, International, House wine
Tides Beach Bar
Location: Swim-up Bar
Hours: 7:30am – 10:30pm
Drinks: National, International, House wine
SCORE Sports Bar
Hours: 11am – 6am
Drinks: National, International, House wine
XS Disco Bar
Location: XS Night Club
Drinks: National, International, House wine
Nautica Beach Bar
Hours: 10am – 6pm
Drinks: National, International, House wine
Encore Swim-up Bar
Location: Under Grazie restaurant in Resort area
Hours: 10am – 5pm
Drinks: National, International, House wine
Also Includes the following Excursions
TOP 10 – Dolphinclusive Ride Xel-Ha (min height requirement, min age 5)